Endress+Hauser expose au Carrefour des Gestions Locales de l'Eau 2021
Le rendez-vous national des gestionnaires de l'eau en France
Rendez-vous les 5 et 6 mai 2021 au 22e Carrefour des Gestions Locales de l'Eau.
Endress+Hauser vous accueille sur son stand digital pour vous présenter sa gamme de produits, services et solutions pour l'eau et l'environnement.
Date
05.05.2021 - 06.05.2021
Event logo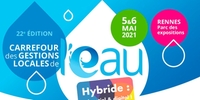 Unique événement national de référence du secteur de l'eau
Les élus et techniciens ont besoin de se rencontrer pour comparer leurs expériences et les difficultés auxquelles ils peuvent être confrontés dans leurs missions. Protection de la ressource, gestion des eaux de pluie, biodiversité et milieux aquatiques, préservation du littoral, gouvernance de l'eau, assainissement autonome et collectif, réseaux… les thèmes qui gravitent autour de l'eau sont très nombreux ! La législation et la réglementation entourant la gestion de l'eau sont également très denses.
Vous voulez en savoir plus ?
Assistez à notre conférence sur les solutions digitales pour la surveillance des réseaux d'eau potable et d'assainissement (le mercredi 5 mai de 14h30 à 15h).
Collectez l'ensemble des données de mesure afin de vérifier la conformité aux exigences réglementaires et d'être averti en cas d'anomalie ou de défaut. Découvrez comment notre nouveau débitmètre autonome Promag 800 s'inscrit dans ce dispositif.
Product highlights
4-channel transmitter
Liquiline CM444

Liquiline CM444 combines best-in-class performance with clever simplicity: fast system integration, great ease-of-use and a convenient expandability save you time and money every day.

Turbidity sensor
Turbimax CUS52D

Turbimax CUS52D is a smart inline/immersion turbidity sensor for all water production measuring points. Achieve lab quality measurement without product loss!
Simple products

Easy to select, install and operate
Technical excellence
Simplicity
Standard products

Reliable, robust and low-maintenance
Technical excellence
Simplicity
High-end products

Highly functional and convenient
Technical excellence
Simplicity
Specialized products

Designed for demanding applications
Technical excellence
Simplicity
FLEX selections
Technical excellence
Simplicity

Fundamental selection

Meet your basic measurement needs

Technical excellence

Simplicity

Lean selection

Handle your core processes easily

Technical excellence

Simplicity

Extended selection

Optimize your processes with innovative technologies

Technical excellence

Simplicity

Xpert selection

Master your most challenging applications

Technical excellence

Simplicity
Could also interest you
Capteurs et solutions pour l'eau potable

C'est l'un des enjeux majeurs des décennies à venir et l'optimisation des procédés est une nécessité économique. Du prélèvement de la ressource au stockage, nous vous accompagnons tout au long de votre projet, de sa découverte à son exploitation.

Capteurs et solutions pour le traitement des eaux usées

Vous cherchez à optimiser vos procédés dans le domaine des eaux usées et réduire vos coûts opérationnels ? Vous rencontrez des difficultés à garantir la sécurité et maintenir la disponibilité de votre station d'épuration ?