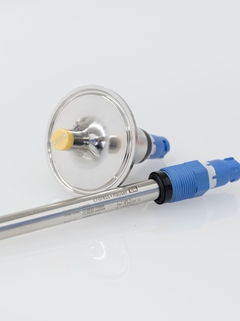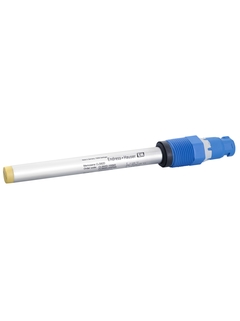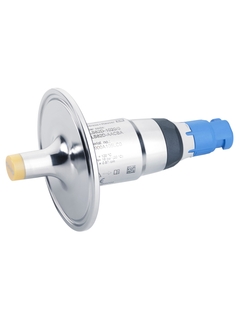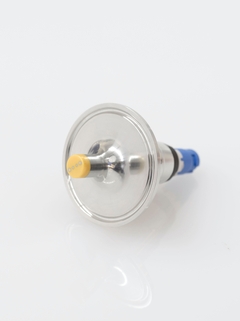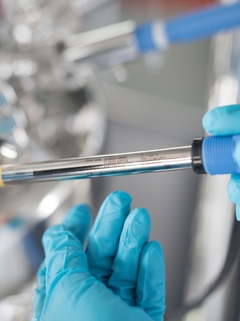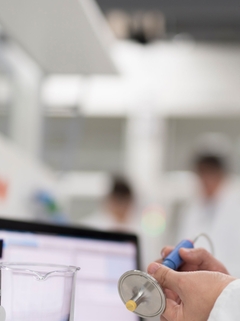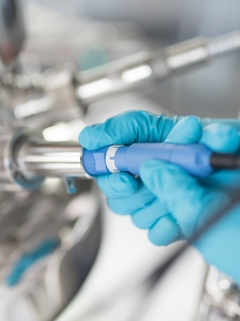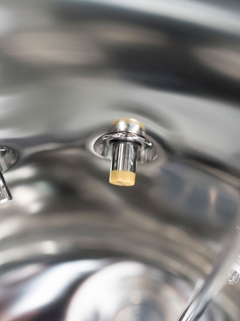 Specs at a glance
Process temperature

-5 to 120 °C (23 to 248 °F)
Sterilization: max. 140 °C at 6 bar for max. 45 min
(Max. 284 °F at 87 psi for max. 45 min)

Process pressure

17 bar abs at 20 °C (247 psi at 68 °F)
9 bar abs at 120 °C (131 psi at 248 °F)
Field of application
Memosens CLS82D is a hygienic, digital sensor for applications with widely varying conductivity values, where it performs reliably, safe and fast. Numerous certificates, various process connections and a small compact design ensure the perfect fit for your process. Memosens CLS82D is not the latest Memosens generation. To get information on the new Memosens CLS82E sensor with extended functionality, click here.
Memosens CLS82D measures conductivity in applications that need to cover a broad measuring range as in:
Phase separation

Downstream processing

Fermentation

Final rinse in pharma applications
With its international explosion protection approvals, such as ATEX, FM, CSA and NEPSI, the digital sensor is suitable for hazardous area use.
Benefits
Broad measurement range

Hygienic design certified by EHEDG and 3-A

Absolute loop safety thanks to Memosens and unique electrode connection surveillance

Sterilizable and autoclavable

Quality certificate stating the individual cell constant

Logging of sensor-specific data for easy traceability and predictive maintenance

Convenient maintenance strategy with Memobase Plus for easy calibration and sensor management
Videos
This video shows how Memosens CLS82D uses the 4-electrode measuring principle to reach maximum accuracy over a wide conductivity range and why it is perfectly suited for hygienic applications.

Memosens converts the measured value to a digital signal and transfers it to the transmitter without a contacting connection. This video shows how Memosens optimizes process control and maintenance.
Extended selection
High-end products

Highly functional and convenient
Technical excellence
Simplicity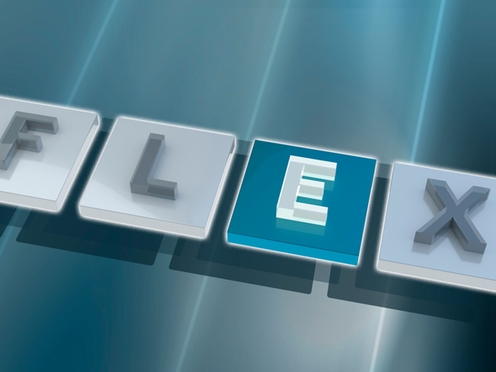 Simple products

Easy to select, install and operate
Technical excellence
Simplicity
Standard products

Reliable, robust and low-maintenance
Technical excellence
Simplicity
High-end products

Highly functional and convenient
Technical excellence
Simplicity
Specialized products

Designed for demanding applications
Technical excellence
Simplicity
FLEX selections
Technical excellence
Simplicity

Fundamental selection

Meet your basic measurement needs

Technical excellence

Simplicity

Lean selection

Handle your core processes easily

Technical excellence

Simplicity

Extended selection

Optimize your processes with innovative technologies

Technical excellence

Simplicity

Xpert selection

Master your most challenging applications

Technical excellence

Simplicity
Loading alternative products
Application

Phase seperation, chromotography, fermentation, CIP monitoring in small pipes, ultrafiltration

Characteristic

Conductivity sensor with a broad measurement range for all hygienic applications with advanced requirements to process safety

Measuring principle

4-electrode conductive conductivity sensor

Design

Certified hygienic design with FDA compliant materials, available as 120 mm sensor with PG13.5 and in many other standard process connections

Material

Process connection: stainless steel 1.4435 (316L)
Sensor element: platinum and ceramic

Dimension

Sensor diameter: 12 mm (0.47 inch)
Electrode length: depending on process connection

Process temperature

-5 to 120 °C (23 to 248 °F)
Sterilization: max. 140 °C at 6 bar for max. 45 min
(Max. 284 °F at 87 psi for max. 45 min)

Process pressure

17 bar abs at 20 °C (247 psi at 68 °F)
9 bar abs at 120 °C (131 psi at 248 °F)

Connection

Clamp 1,5", Clamp 2", Varivent F DN25,Varivent N DN40-DN125, BioControl DN25, PG13,5, DN25 standard/40mm, DN25 B.Braun port/65mm, Threat G1", Thread NPT 1"
Cable: Memosens connector

Additional certifications

3-A, hygienic design EHEDG, ASME BPE-2002
Pharma CoC, FDA, Regulation (EC) No.
1935/2004
Most downloaded
Technical Information (TI)

Memosens CLS82D Information technique

New version available in English

Capteur de conductivité, 4 pôles

| | | | |
| --- | --- | --- | --- |
| | EN | | |
| | | | |
| | | | |
| | | | |
| | | | |

| | |
| --- | --- |
| Language: | French |
| Version: | 06/07/2017 |
| File size: | 485.6 KB |
| File name: | TI01188CFR_0417.pdf |

Operating Instruction (BA)

Memosens CLS82D

New version available in English

Capteurs de conductivité hygiéniques

| | | | |
| --- | --- | --- | --- |
| | EN | | |
| | | | |
| | | | |
| | | | |
| | | | |
| | | | |

| | |
| --- | --- |
| Language: | French |
| Version: | 19/08/2020 |
| File size: | 1.3 MB |
| File name: | BA01326CFR_0620.pdf |
308 documents
Technical Information (TI)

Memosens CLS82D Technical Information

Technical Information (TI)

English version - 07/2017

New version available in English

Conductivity sensor, 4-pin

| | | | |
| --- | --- | --- | --- |
| | EN | | |
| | | | |
| | | | |
| | | | |
| | | | |

| | |
| --- | --- |
| Language: | English |
| Version: | 06/07/2017 |
| File size: | 382.7 KB |
| File name: | TI01188CEN_0417.pdf |

Operating Instruction (BA)

Memosens CLS82D

Operating Instruction (BA)

English version - 03/2022

New version available in English

Hygienic conductivity sensors

| | | | |
| --- | --- | --- | --- |
| | EN | | |
| | | | |
| | | | |
| | | | |
| | | | |
| | | | |

| | |
| --- | --- |
| Language: | English |
| Version: | 30/03/2022 |
| File size: | 1.2 MB |
| File name: | BA01326CEN_0722-00.pdf |

Operating Instruction (BA)

Cleanfit Control CYC25 Operating Instructions

Operating Instruction (BA)

English version - 01/2017

New version available in English

Cleaning unit

| | | | |
| --- | --- | --- | --- |
| | EN | | |
| | | | |
| | | | |
| | | | |
| | | | |

| | |
| --- | --- |
| Language: | English |
| Version: | 31/01/2017 |
| File size: | 2 MB |
| File name: | BA01436CEN_0417.pdf |

Ex Safety Instruction (XA)

CLS50D, CLS50, CLS54, CLS15D, CLS16D, CLS21D, CLS82D

Ex Safety Instruction (XA)

English version - 01/2022

New version available in English

Supplement to: BA00182C, BA01591C, BA01147C, BA01326C Safety instructions for electrical apparatus in explosion-hazardous areas UK II 1G Ex ia IIC T3/T4/T6 Ga

| | |
| --- | --- |
| Language: | English |
| Version: | 31/01/2022 |
| File size: | 459.6 KB |
| File name: | XA02702CEN_0222-00.pdf |

Ex Safety Instruction (XA)

CLS15D, CLS16D, CLS21D, CLS50D, CLS50, CLS54, CLS82D

Ex Safety Instruction (XA)

English version - 03/2022

New version available in English

Safety instructions for electrical equipment in explosion-hazardous areas EAC Ex, 0Ex ia IIC T6/T4 Ga X Supplement to: BA01147C,BA00182C, BA01591C, BA01326C

| | |
| --- | --- |
| Language: | English |
| Version: | 01/03/2022 |
| File size: | 507 KB |
| File name: | XA02375CEN_0222-00.pdf |

Special Documentation (SD)

Hygienic applications

Special Documentation (SD)

English version - 04/2021

New version available in English

Equipment for liquid analysis

| | |
| --- | --- |
| Language: | English |
| Version: | 30/04/2021 |
| File size: | 515.3 KB |
| File name: | SD02751CEN_0121.pdf |

Leitfähigkeitsmessung in Industrieprozessen

German version - 12/2019

New version available in English

Auswahl- und Engineeringhilfefür verschiedene Industrien und Anwendungen

| | |
| --- | --- |
| Language: | German |
| Version: | 05/12/2019 |
| File size: | 2.9 MB |
| File name: | CP01313CDE_0119_LF Auswahlhilfe.pdf |

For the love of quality water

English version - 06/2019

New version available in English

Fresh ideas for waterworks, distribution networks, surface waters and industrial plants.

| | |
| --- | --- |
| Language: | English |
| Version: | 17/06/2019 |
| File size: | 3.2 MB |
| File name: | CP01335CEN_0119_Competence in water.pdf |

Conductivity measurement in industrial processes

English version - 12/2019

New version available in English

Selection and engineering guide for different industries and applications

| | |
| --- | --- |
| Language: | English |
| Version: | 05/12/2019 |
| File size: | 3 MB |
| File name: | CP01313CEN_0119_cond_selection guide.pdf |

Trinkwasser-Überwachung bei Grossveranstaltung

German version - 10/2022

New version available in English

Für die 30'000 Teilnehmer des Pfadilagers im BuLa muss Trinkwasser in einwandfreier Qualität zur Verfügung gestellt werden. Mit der Netilion-Lösung kann die Kontrolle zeit- und ortsunabhängig erfolgen.

| | |
| --- | --- |
| Language: | German |
| Version: | 12/10/2022 |
| File size: | 833.5 KB |
| File name: | CS01708S20DE01.22_00_BULA_.pdf |

All around ideally supplied algae

English version - 08/2021

New version available in English

Optimal conditions through holistic liquid analysis

| | |
| --- | --- |
| Language: | English |
| Version: | 20/08/2021 |
| File size: | 736.7 KB |
| File name: | CS01720C_0121_All around ideally supplied algae.pdf |

Real time monitoring of water quality in aquaculture systems

English version - 07/2021

New version available in English

CSIRO utilises Netilion Water Networks Insight (NWNI) to gain complete visibility of process changes in their aquaculture researchfacility. The turnkey cloud-based solution allows for real-time monitoring of water quality parameters DO, pH, temperature and salinity.

| | |
| --- | --- |
| Language: | English |
| Version: | 15/07/2021 |
| File size: | 330.4 KB |
| File name: | CS01706S36EN_01.21_Real time monitoring of water quality in aquaculture systems - Case study.pdf |

Physikalisch-chemische Trinkwasser-Analysepanels in der Anlage von GrandBelfort

German version - 01/2021

New version available in English

Zuverlässige, modulare Ausrüstung für die kontinuierliche Überwachung der Wasserqualität

| | |
| --- | --- |
| Language: | German |
| Version: | 29/01/2021 |
| File size: | 732.2 KB |
| File name: | CS01673C_Physicochemical drinking water analysis panel at the Grand Belfort plant.pdf |

Conductivity measurement in a water reuse plant

English version - 10/2019

New version available in English

Conductivity measurement in a water reuse plant: Precise measured values even in low measuring ranges

| | |
| --- | --- |
| Language: | English |
| Version: | 22/10/2019 |
| File size: | 2 MB |
| File name: | CS01607C_CLS82D in water reuse plant_Pasfrostpdf.pdf |

Leitfähigkeitsmessung in Wasserrecyclingsanlage

German version - 10/2019

New version available in English

Leitfähigkeitsmessung in Wasserrecyclingsanlage: Präzise Messwerte auch in niedrigen Messbereichen

| | |
| --- | --- |
| Language: | German |
| Version: | 22/10/2019 |
| File size: | 2 MB |
| File name: | CS01607C_CLS82D in Wasserrecyclingsanlage_Pasfrost.pdf |

Rundum ideal versorgte Algen

German version - 08/2021

New version available in English

Optimale Bedingungen durch ganzheitliche Flüssigkeitsanalyse

| | |
| --- | --- |
| Language: | German |
| Version: | 20/08/2021 |
| File size: | 736 KB |
| File name: | CS01720C_0121_Rundum ideal versorgte Algen.pdf |

Mesure de conductivité dans une installation de réutilisation des eaux

French version - 10/2019

New version available in English

Valeurs mesurées précises même dans des gammes de mesure aux valeurs basses

| | |
| --- | --- |
| Language: | French |
| Version: | 22/10/2019 |
| File size: | 1.2 MB |
| File name: | CS01607CFR-0119-Pasfrostpdf.pdf |

Ein Sensor für alle Fälle

German version - 03/2016

New version available in English

Der Vier-Elektroden-Leitfähigkeitssensor Memosens CLS82D für höchste Hygieneanforderungen

| | |
| --- | --- |
| Language: | German |
| Version: | 31/03/2016 |
| File size: | 731.7 KB |
| File name: | IN01079CDE_0116_Memosens CLS82D.pdf |

A sensor for any situation

English version - 03/2016

New version available in English

Memosens CLS82D four-electrode conductivity sensor for the most stringent hygiene requirements

| | |
| --- | --- |
| Language: | English |
| Version: | 31/03/2016 |
| File size: | 918.2 KB |
| File name: | IN01079CEN_0116_Memosens CLS82D.pdf |

Buffer/calibration solution

50081906 (Malta)

Buffer/calibration solution

English version - 05/2022

New version available in English

CLY11-E Calibration solution 107.00 mS/cm

| | |
| --- | --- |
| Language: | English |
| Version: | 30/05/2022 |
| File size: | 52.2 KB |
| File name: | MSDS_50081906_(M).pdf |
Loading more results
Search spare parts by number in drawing
60 spare parts & accessories
60 spare parts & accessories
60 spare parts & accessories
5 products & bundles
Two-wire field device for hazardous and non-hazardous area use in chemicals, life sciences and food

Input

One channel transmitter for Memosens and analog (pH, ORP, conductivity)

Output / communication

1/2 x 4 to 20 mA, HART, Profibus PA, FF
Additional second output possible, also later

Ingres protection

Expandable multiparameter field device for all industries

Input

1 to 2x Memosens digital input

Output / communication

2 to 8x 0/4 to 20 mA current outputs
Alarmrelay, 2x relay

Ingres protection

Compact panel device for the food, power, water and wastewater industries

Input

Output / communication

Ingres protection

Front IP65 , NEMA 4X, Body IP20

Compact multiparameter DIN-rail and cabinet device for all industries

Input

1 to 2x Memosens digital input
2x 0/4 to 20mA Input optional
2x Digital input optional

Output / communication

2 to 8x 0/4 to 20 mA current outputs
Alarmrelay, 2x relay, ProfibusDP, Modbus RS485,
Modbus TCP, Ethernet

Ingres protection

Transmitter: IP20
Optional Display: IP66

Multiparameter field device for hazardous and non-hazardous applications in all industries

Input

Output / communication

Ingres protection
5 products
Two-wire field device for hazardous and non-hazardous area use in chemicals, life sciences and food

Input

One channel transmitter for Memosens and analog (pH, ORP, conductivity)

Output / communication

1/2 x 4 to 20 mA, HART, Profibus PA, FF
Additional second output possible, also later

Ingres protection

Expandable multiparameter field device for all industries

Input

1 to 2x Memosens digital input

Output / communication

2 to 8x 0/4 to 20 mA current outputs
Alarmrelay, 2x relay

Ingres protection

Compact panel device for the food, power, water and wastewater industries

Input

Output / communication

Ingres protection

Front IP65 , NEMA 4X, Body IP20

Compact multiparameter DIN-rail and cabinet device for all industries

Input

1 to 2x Memosens digital input
2x 0/4 to 20mA Input optional
2x Digital input optional

Output / communication

2 to 8x 0/4 to 20 mA current outputs
Alarmrelay, 2x relay, ProfibusDP, Modbus RS485,
Modbus TCP, Ethernet

Ingres protection

Transmitter: IP20
Optional Display: IP66

Multiparameter field device for hazardous and non-hazardous applications in all industries

Input

Output / communication

Ingres protection